Sultan Banaspati was designed with your well-being in mind. Our ghee enables you to cook delicious meals without having to worry about your health. Its low level of cholesterol makes it suitable for heart patients and it is packed with Vitamin A and D, which will help you live a long and healthy life.
This product is a blend of three natural oils: soybean, canola and sunflower. Sultan cooking oil is rich in Vitamins A, D and E, and it has the recommended amounts of Omega 3 and 6 to ensure that you can look after your health while fulfilling all the needs of an active lifestyle.
As a pure vegetable oil, this product is made from the refined extract of sunflower seeds. The versatility of Sultan sunflower oil is highlighted by its popularity as a medium for salad dressings and deep frying. This oil does not contain any additives or cholesterol, which enables you to get the most out of your cooking without compromising your health.
Sultan canola oil is freshly extracted from imported seeds to ensure a high level of purity that makes its quality comparable to some of the best cooking oils in the world. In addition to enhancing the taste of your food, Sultan canola oil has the added benefit of reducing blood cholesterol and the risk of coronary heart diseases.
Similar to canola and mustard, the rapeseed plant is famous for its golden-yellow flowers. Sultan Rapeseed oil is free from any solvents and cold extracted purely from seeds. It is rich in Vitamin E, which promotes skin health. Due to its high smoke point, it is popular for frying food, especially fish. Additionally, due to its mild flavor, it works well in salad dressings, dips, baking, and for frying without compromising the flavor of the food.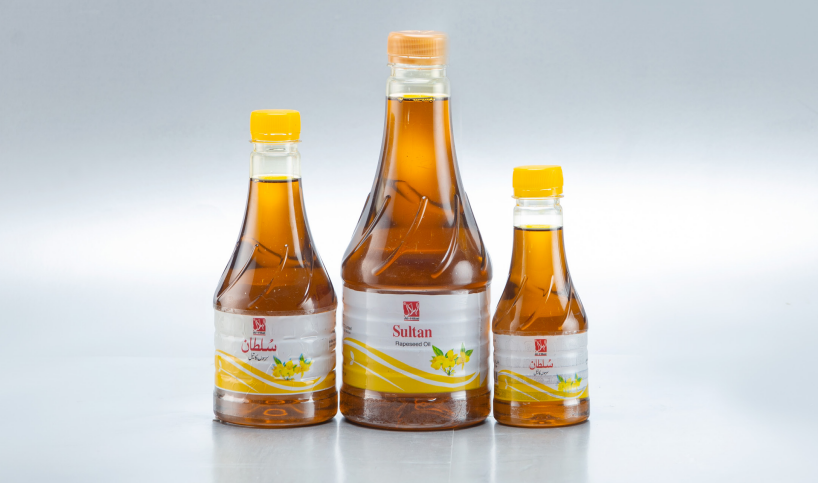 1000 ml
500 ml
250 ml
125 ml
1000 ml x 6
500 ml x 12
250 ml x 24
125 ml x 48